Shipping pharmaceuticals requires strict hygiene control across the supply chain. Pallets are a key part of these pharmaceutical shipping operations. Organisations must ensure that the materials they use meet their standards.
Over recent years, a number of well-known global pharmaceutical companies have lost millions of dollars due to hygiene issues with wooden pallets. Chemicals used to treat the wood were effected by moisture retention, creating another, more dangerous substance. Consumers reported mouldy odours and vomiting, leading a number of the organisations to recall products, as reported by International Pharmaceutical Industry.
Plastic pallets are immune to these types of contamination issues and are a reliable alternative for industries heavily reliant on hygiene.
---
Shipping Pharmaceuticals With Plastic Pallets
Maintaining hygiene in the pharmaceutical industry with plastic pallets
Plastic products do not absorb moisture, and dry easily and quickly when washed.
One of the top benefits of plastic pallets in a pharmaceutical supply chain is their resistance to moisture, mould and mildew. Wooden pallets easily retain water during cleaning or if left outside in poor weather, encouraging mould and mildew growth. The presence of bacteria or excess moisture is a significant contributor to hygiene issues, and can contaminate products if present in any part of the packaging.
Plastic products do not absorb moisture, and dry easily and quickly when washed, removing any opportunity for bacterial growth.
With a much smoother surface than wood, plastic pallets also make dirt and debris much more visible and less likely to build up in small crevices. Spillages are easily wiped away and do not soak into the material, as they often do with wooden pallets.
Another issue with wood is the contamination risk associated with splinters and loose nails. Not only can these small items contaminate a product, they can also injure workers involved in manual handling, posing another threat to hygiene standards. Plastic pallets are made from a mould so there are no individual components that can break free, and they're strong enough to withhold heavy loads without serious damage.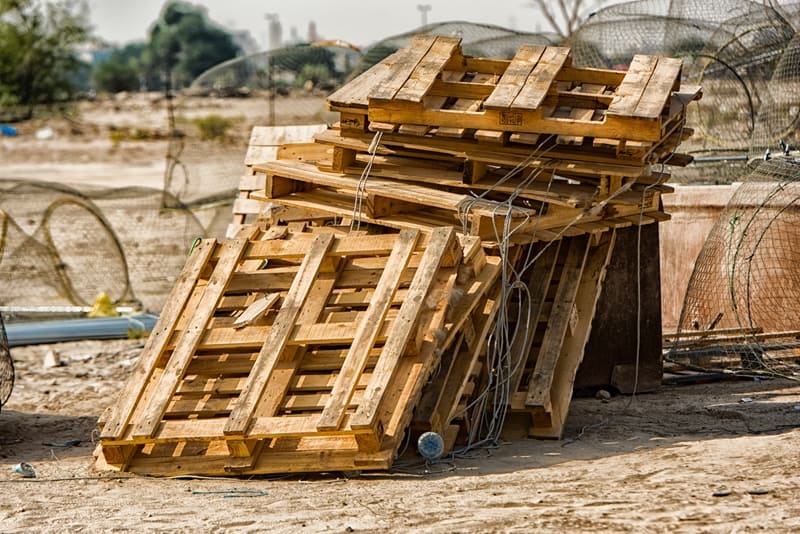 ---
Best Plastic Pallets For Shipping Pharmaceuticals
In pharmaceutical shipping, it's not just hygiene that can cause a health and safety nightmare. Spills also cause issues with contamination, product quality and cause a hazard for your workers. Unlike wooden pallets, their plastic counterparts come in a range of designs, capable of protecting your shipment no matter it's size, shape or contents.
Spill containment pallets protect supply chain workers from accidents.
Spill containment, or bunded pallets, are one such solution useful for transporting liquids. These products provide a tray underneath the platform to catch drips and spills as they happen, preventing liquid from spreading further. From a health and safety perspective, spill containment pallets protect supply chain workers from accidents as well as from encountering liquids best handled only by industry professionals.
Another option is a fully collapsible plastic crate, which keeps your shipment entirely contained and eliminates the risk of products falling off the pallet during shipping. Most collapsible crates come with the option of a lid as well and fold down significantly when not in use, reducing return shipping costs.
At Eco Pallets, we offer a wide range of plastic shipping options for the pharmaceutical industry. Whether you know what you want, or need some friendly advice, our expert team are available to help. Contact Eco Pallets Australia today for more information and get your pharmaceutical shipping up to scratch.